Does Your State Understand Domains?
Mike Sullivan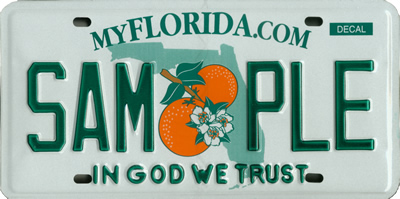 So far, the weather has been great and the kids are loving the beach.  One thing I noticed while strolling through town is that the state's vehicle  registration tags or license plates have the domain "MyFLORIDA.COM" stamped across them.  I just visited the site a few minutes ago and it's dubbed as "The Official Portal of the State of Florida."  It's a one stop shop for everything and anything Florida.
I realize there are a few states that have their official website marked on their license plates, but my home state of Illinois isn't one of them, so this stood out to me.  The website is actually pretty useful.  A little surprising to me was that the domain didn't end in dot gov.  But, Florida.gov redirects to MyFlorida.com.  MyFlorida.gov also redirects to MyFlorida.com.
While Florida.com belongs to someone else, it's good to see that who ever Florida put in charge of their website and domains really understands the value of domain names.  Look for part 2 of the Rob Monster interview tomorrow if the kids will let me have some time away from the beach.