Jeremiah Johnston is the Chief Operating Officer & General Counsel, Sedo.com.  Jeremiah Johnston began his career with Sedo in 2004 as General Counsel, helping the company keep a step ahead of the domain industry's ever-changing legal landscape. Now serving in the joint role of General Counsel and Chief Operating Officer, Johnston oversees a variety of responsibilities for Sedo and helps lead its push into the North American market. Johnston represents Sedo as a founding member of the Internet Commerce Association (ICA) and sits on the Board of Directors in the role of association President, helping to shape the future of domain names in the political space.
With more than nine years of experience leading Internet-related companies and an academic background that focused on global intellectual property, Johnston has helped Sedo identify opportunities and risks while always keeping an eye on the horizon. Johnston holds a BS in Mass Communication from the University of Utah (USA) and a Juris Doctor degree from the Suffolk University School of Law (USA) where he completed a concentration with distinction in international law and intellectual property while taking time to study in Sweden and serving as the Managing Editor of the Journal of High Technology Law.
Johnston was recognized as a Boston Business Journal's 40 under 40 honoree in 2009, which pays tribute to the most outstanding and up-and-coming business leaders.
Mike:  Anyone involved in the domain industry is familiar with Sedo.  In fact, the first lesson for beginners is often "Be sure to list your names at Sedo."  What do you think has contributed to the success of the company?
Jeremiah:  Domains are universal and the Internet is universal, so the fact that Sedo has a multi-lingual platform has really set us apart by enabling more buyers and sellers to interact.  It's good for both sides.  From the very beginning we recognized that Sedo couldn't be a one language website and we opened ourselves up to multiple languages so we could support people around the world and put together deals with people around the world.  Right now, we have more than 1 million users from more than 100 countries.  Our site is available in four languages — with plans to expand that – and we offer customer support in 20 languages.
Mike: What have been some of the highest selling domains on Sedo in recent history?
Jeremiah:  Well, the biggest and most memorable one recently is Sex.com.  It's a category defining name for what's arguably the biggest industry online, and fetched a record $13 Million.  As you know, keyword names like this are historically the most valuable and we've had others like Vodka.com sell for $3M and Pizza.com sell for more than $2M.  Last month we secured the rights to broker the sale of Gambling.com, which could be in the running for a record sales price as well.
Mike:  I'm curious, can you share the volume of traffic that Sedo receives?
Jeremiah:  What I can tell you is that our transaction volume continues to steadily increase.  For example, in the third quarter of 2010, more than 10,000 domains changed hands through our marketplace.  But what's more significant is the increase in the average sale price which was around $1,600 in Q3 2009 and grew to around $2,000 in Q3 2010—not bad for an economy that's been in recession.  If you want to find the exact figures, we publish a quarterly market trends report that you can find on our web site.  The Q4 2010 report will be issued shortly.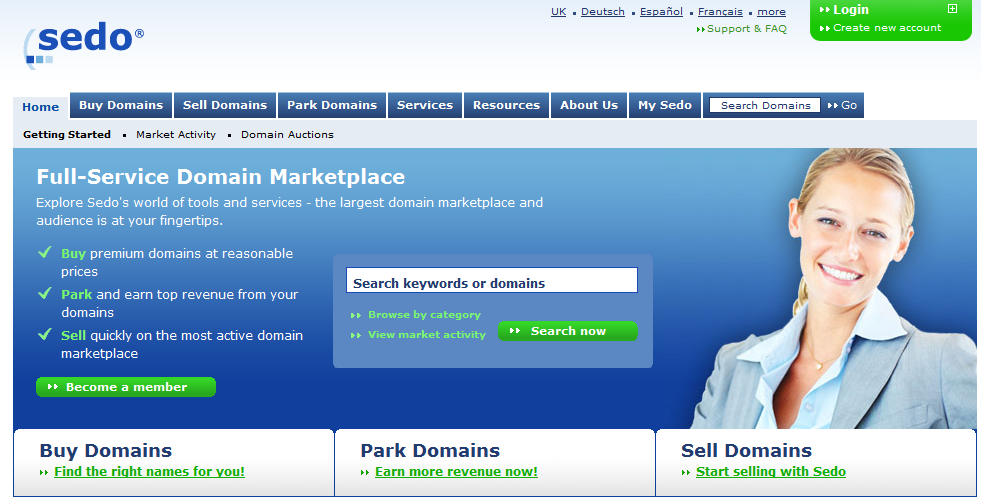 Mike:  Are there things that domainers can do to more effectively list their domains on Sedo to increase chances for a sale?
Jeremiah:  The best thing people can do is think like a small business or entrepreneur.  For the most part, these buyers are the target audience, and they don't want to be involved in long negotiations over a domain name.  When they see a listing that says "make offer," it could scare them away and prevent them from inquiring more.  At a basic level, setting a minimum sales price is a good practice to get into, but an even better tool is fixed pricing.  We're really starting to see fixed-price sales take off because they're so attractive to the buyer.  If you take a look back at the market trends report I mentioned earlier, you'll see a tremendous year-over-year jump in the number of fixed-price sales.  In Q309, they accounted for 5 percent of total sales, and a year later, they grew to nearly 30 percent of total sales.
The other thing I'd suggest would be including additional information about the domain in the listing.  Our system has a field for sellers to include additional information about a domain, and I'd encourage people to include any information they have.  If a buyer knows things like how much traffic a domain receives, what people look for or what they spend time doing when they visit a site, or details on geographic origins of traffic, it will help make them feel more comfortable about making a purchase and understand the value of the investment for their business. Domains are not so much marketing tools as they are marketing investments, and like any investment decision, buyers are more prepared than ever to do their research.
Mike:  Not everyone buying a domain name is in the domain industry.  How does Sedo market to businesses and individuals outside of the domain industry?
Jeremiah:  We do a variety of things, in addition to the more obvious tools like search marketing. One thing we do is pick a vertical industry to target every quarter.  After we set a focus for the quarter, we'll buy advertising within the industry press for that vertical, and while we have their attention, we'll organize industry-themed auctions.  In the past, we've target industries like travel and e-commerce, and we're planning a few new industries to target for 2011.
We also invest heavily in public relations to not only make the business community aware of domain names, but to communicate their value.  Domains can be a complex proposition, so PR gives us an opportunity to explain the market in a way that advertising can't.  It allows us to dig deeper into the topic and help foster an ongoing conversation.
Another thing we're doing in 2011 to draw more attention to our premium auctions is to experiment with things like business radio, and in general, try to reach-out more to the small-medium business community.  Whatever we can do to reach that community will help us, and more importantly, the domain owners using our marketplace.
Mike:  Why is it that a domain name must receive an offer before moving to auction?  It seems like there are some great names sitting idle, waiting for an offer to come along.  Would it be more effective to just move those to auction?
Jeremiah:  This is a good question, and one we receive quite a bit.  Although it might not seem intuitive, that rule is in place to protect the seller's best interest and help them get the best price possible.  Auctions make sense for a domain investor because they're guaranteed to make a sale, but buyers are looking to make a more careful and calculated purchase.  If you put a domain to auction before it's received any interest, it might ensure that it changes hands, but it won't ensure that it changes hands for the right price or goes to the right buyer.  Because of this, we do offer people the opportunity to put their domain into an auction before they receive a bid, we just have our brokerage team moderate it.  If your readers are interested in participating in Sedo's premium auctions they can submit their domain through the domain management tool where it's reviewed by our staff for inclusion. If a domain is rejected from the auction, we always take the time to share a reason why and offer alternative ways to sell quickly, if that's the seller's goal.
So in general, it's not that we don't allow sellers to move to auction before receiving a bid, we just handle things on a case-to-case basis.  We want to make sure that a domain is given the time it needs to get in front of the right audience.
Mike:  What advice do you have for businesses or individuals looking for a domain name on the aftermarket?
Jeremiah:  First and foremost is to think like their customers.  How do their customers refer to them?  How do their customers search for them?  And how do they refer to their products?  They should go out and get names that match those terms.
It's also fundamental that a business understand that a proper domain strategy is one comprised of several domains that all bring something unique to the table. Most people start and stop with domains that match their company name or trademark. While these domains remain important—its your primary name after all—a proper domain portfolio also consists of domains that match the keywords your customers use to find you, domains that match any acronyms your customers would use to abbreviate your name, domains with alternative extensions for expansion plans, defensive domains that distraught customers could use to post negative commentary, and of course the mistypes of any of these to capture those looking for you but who don't always spell correctly.
Mike:  How do you deal with situations where the buyer doesn't pay for a domain?  Is there any protection there?
Jeremiah:  While originally a big concern, I'm happy to say that this is a trend that has decreased significantly over the years.  But to help protect people on our marketplace, we invested in creating our security and compliance department in 2007 which uses a variety of measures to prevent fraudulent activity on our site or failure to follow through with a transaction.  One of the core things we do to protect domain sellers is our buyer certification program which requires buyers to take a few steps to validate that they'll go through with a transaction before they're allowed to make a bid.  So, not only do we have a certification program, we have a whole team dedicated to preventing any fraud across the Sedo sites, whether aimed at Sedo or our customers.
Mike:  Any other information you'd like to share?
Jeremiah:  There's one thing that your readers should know that we're really excited about this year.  With a database of more than 17 million domains, Sedo's goal is to take its world-class inventory to more and more buyers.  When a user lists their domain at Sedo they already get the additional exposure of their listing being displayed on more than 50 partner sites globally, with our SedoMLS, launch in 2011 that partner network is poised to grow even faster. The inclusion of instant transfer features will make buying a domain listed with Sedo as easy as a first time registration . It goes back to making sure a domain is seen by the right people so it gets the right price – SedoMLS will extend our reach so we can help a seller get their name in front of more eyeballs.  It's one of the really cool things we're working on this year.