Exclusive: Rob Monster talks about the Undeveloped.com Acquisition
Mike Sullivan

Just under a week ago, like many of you, I received an email from Epik announcing the acquisition of Undeveloped.com. Rob is a friend of SullysBlog.com and has been featured on the site multiple times. When I heard the news I checked in with Rob for some additional details.
Mike: What made this the right time for Epik to acquire Undeveloped.com? How does this benefit both businesses?
Rob: Reza Sardeha and I have been talking for almost a year. I originally approached the discussion with Reza from a mentoring perspective with no specific hope that Undeveloped would become part of Epik. While I am sure the thought of joining forces was in the back of my mind, it was not where the conversation started. Over the course of a year, that changed and we were able to begin imagining the possibility of bringing the companies together. Over the course of several site visits in Amsterdam and some early tactical collaboration, I became impressed with the conversion performance of the Undeveloped landers, as well as the professionalism with which Undeveloped handled transaction closing. As for how this deals benefits both businesses, I think fundamentally this makes Epik a global contender, whereas we were previously a US-based supplier providing after-hours coverage from India and Eastern Europe where we have personnel. Looking ahead, we will quickly integrate Undeveloped's superior domain marketplace, and are already gearing up to do a better job of catering to the needs of customers in Europe, Middle East and Africa.
Mike: Undeveloped.com touts itself as "The world's leading marketplace for digital brands." Tell me what that means? How is this different from other domain market platforms?
Rob: Mike, that is a great question. Thank you for noticing that change in positioning. The big idea here is that we think we can go far beyond domains. The Internet has changed and so must we. We can combine all of the elements of digital brands, including not just domains but also, social media handles, mobile app handles, trademarks, branding elements, and even an initial go-to-market strategy such as channel partnership or content access agreements or other value-added. The end-result is what I call a "turn key move-in-ready Digital Brand". In other words, the buyer of a Digital Brand from Undeveloped does not have to wonder if they will have freedom to practice. They will have all of the components ready to go for managing their web and mobile presence. One example where this is playing out is WallStreet.com where we recently were appointed as the exclusive broker. You can visit the WallStreet.com site to see how this digital brand asset is being marketed to an international audience.
Mike: Why not integrate into a single platform and combine undeveloped.com?
Rob: I believe in Reza. I believe in Undeveloped. As such, I don't want to miss out on the opportunity to support a talented entrepreneur in pursuing his dream through completion. I also don't want to understate the opportunity we have in the area of creating a Digital Brand Marketplace. An early attempt at this concept can be found with BrandBucket. However, with BrandBucket, domain owners need to pay up front. Moreover, the average BrandBucket sales price is under $3,000 and they sell through only a tiny fraction of their branded domains. Despite having an interesting concept, I believe BrandBucket has missed the opportunity to create a compelling value proposition that is capable of commanding much higher price points measured in 6, 7 and even 8 figure dollar amounts. For example, WallStreet.com and its related assets are currently listed by Undeveloped. The listing includes a developed site, social media, and fully prosecuted trademarks is a good example of a Digital Brand that is worthy of a premium price.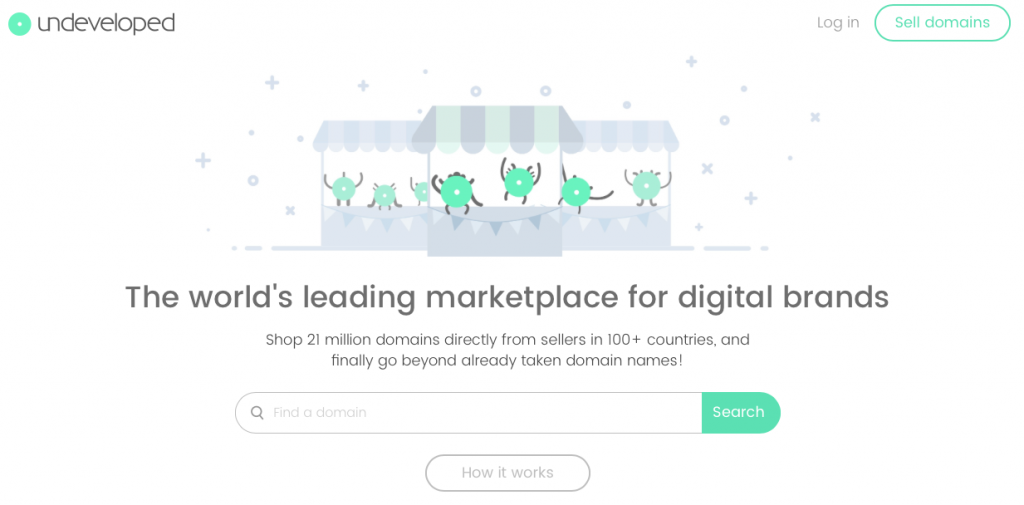 Mike: What are some examples of premium names listed with Undeveloped.com? Is this a platform for only the high end generic names?
Rob: Besides WallStreet.com, we are securing several other high value listings which will be announced in due course. That being said, the Undeveloped value proposition is not at all limited to super-premiums. One simple example of brandable names is a domain called Nutriseed.com which was a domain that I had hand registered and then sold for 7500 Euros through Undeveloped. However, this was simply for a domain name. Had the domain been kitted with other Digital Brand assets, it likely that this Digital Brand would have sold for materially more. With Undeveloped now part of Epik, we will be inviting people with solid brandable domains to bring their domains to Undeveloped and work with us to build out these brands either as marketplace listings, auction listings, or to develop them into Digital Brands.
Mike: Are there any barriers or constraints with Undeveloped.com being located in the Netherlands?
Rob: No, not at all. Amsterdam is awesome. In fact, I love spending time there. The Undeveloped office is a 5 minute walk from the Central Train Station. There is enormous cultural and language diversity in Amsterdam, which gives us access to an abundance of talent for both content localization and customer support. Schiphol airport is efficient and has direct routes to almost every major destination in Europe, Middle East and Africa. The Dutch train system is one of the best in the world with convenient routes to many European cities with WiFi on board, and no airport security checks. In other words, I see Undeveloped being in a perfect location for what we have planned.
Mike: How will the united strengths of Epik, as a full service registrar, and ingenuity of Undeveloped.com, as a domain market place, improve a domainers business or experience?
Rob: Epik is one of the more integrated registrars when it comes to the domain name lifecycle: Acquire, Build, Manage, Sell. The addition of Undeveloped adds some breakthrough capability as a domain marketplace and auction house. One of the most exciting projects that we'll be releasing in the next few weeks is a platform that I branded as Lastcall.Auction. It is a no-reserve auction where registrants can submit their expiring domains. Rather than handing this market to NameJet and Snapnames, domain registrants can get this revenue for themselves. Because Epik is both a registrar and now able to power an impressive live auction platform, we have a perfect vehicle through which we can power this type of live auction. If you have never seen Undeveloped's auction platform, prepare to be amazed.
Mike: What role will Reza Sardeha, founder of Undeveloped, play in the business going forward?
Rob: That is an easy question. The sky is the limit. Reza has assembled an impressive team in Amsterdam and has kept them together through the startup phase over nearly 3 years. For anyone who has done that, they can appreciate the challenges that go with that, particularly if a company is modestly capitalized, as was the case with this Rockstart-incubated startup. I have high expectations that Reza will not only excel in running Undeveloped as a retail-facing brand but that he will also become a recognized leader in the global domain community as part of Epik Holdings. It is my personal objective to coach Reza and to be a resource and mentor to him as he takes his career to the next level as part of Epik Holdings.
Mike: What type of growth do you expect to see in the combined effort over the next couple of years?
Rob: I have a lot of experience with hyper-growth. Global Market Insite (GMI), the company I led from 2000-2007, before selling to WPP Group was growing 100% per year in a business that was far more labor intensive than this one. I believe the domain industry is absolutely aching for a world class company with high integrity leadership. Epik intends to fill that void. With the acquisition of Undeveloped now completed, we are now much better equipped to do so. In terms of specific growth projections, I think 100+% revenue growth is entirely attainable for the next several years as the domain industry finally realizes the massive investment that Epik has made in building a world class domain name asset management platform with unsurpassed support.
If you like this post and want to sponsor it on Domaining.com, click HERE.