Lori Anne Wardi is a Director at .CO Internet S.A.S.  Working closely with both agency partners and all the members of .CO team, Lori Anne is primarily responsible for overseeing the registry's marketing strategy, business development, and global PR and communications efforts.
According to Lori Anne,  every achievement that .CO has enjoyed to date, without exception, has been the result of the combined efforts of an incredibly smart, creative and cohesive team.  While marketing may not be in everyone's job title, Lori Anne believes it is a role that the entire .CO  team fully embraces — from the CEO onward — and recognizes to be an integral part of everyone's job.
Mike: What is the goal and purpose of cointernet.co?
Lori: .COinternet.CO is the corporate website for .CO Internet, S.A.S., the registry responsible for managing, promoting and administering the .CO domain. From COinternet.CO, we have a platform to speak to the wide range of individuals, organizations and businesses who are interested in learning about .CO domain names — from domain registrars and resellers; to brand owners, domain investors, registrants and end-users; to members of the press and industry analysts.
The site is our corporate "home base" and where we keep the world updated about our plans, policies, auctions, events and upcoming opportunities. Our blog is, in particular, becoming an increasingly important element of COinternet.CO/blog – as it let's us quickly and easily stay in touch with the .CO community.
The other website I want to point out is www.Opportunity.CO – this is where we showcase all the great things people are creating on .CO domain names.  I encourage anyone who has developed a site they are proud of on a .CO domain to submit it to our directory on Opportunity.CO for all to see!
Mike: Tell us about the goal and purpose of the .CO domain itself?
Lori:  These days no matter who you are, what you do or where you live, branding your online presence has never been more important.  At the most basic level, our aim is to offer people around the world the opportunity to brand their online presence with a truly global, recognizable, and credible domain name — the perfect web address they may have always wanted, but until now, thought they could never have.
Beyond branding, our goal is to build the premier global platform for opportunity online.  We want to inspire millions of people to stop wishing, hoping and thinking about those big dreams, innovative ideas, noble aspirations and lifelong goals they've been carrying around in their hearts forever — and to start turning them into realities.  With a .CO domain as a platform – the opportunities people can create for their lives and their livelihoods are truly endless.  Helping to bring these opportunities to life is what we are all about.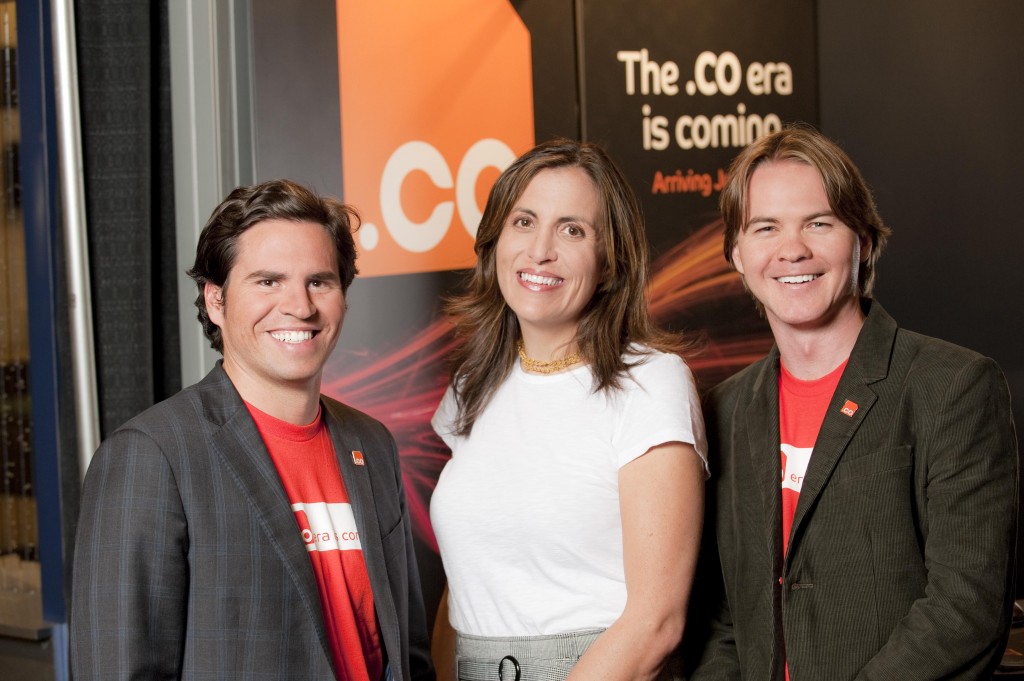 Mike: Tell me how .CO gained so much support?
Lori: Since our launch, we have experienced an extraordinary amount of support. So far, over 600,000 domain names have been registered and that number continues to grow — as does the number of fantastic developed web sites that are popping up every day.
I think there are a lot of reasons for the support, the most basic of which are hard work, good planning and careful industry engagement.
Before we tried to sell our first domain name, we did our best to ensure that our product would be world class – including a very strong policy framework.  From partnering with Neustar as our registry back end technology provider; to partnering with Deloitte to ensure that the rights of brand owners were protected throughout the process; to partnering with the world's leading domain registrars and resellers to distribute .CO domains around the globe — we knew early on that we would need premium partners to create and maintain a premium product.
We also took a lot of care to understand our target market – and the broader competitive landscape. Domain names are not a commodity product – and in all of our marketing efforts we did our best to speak directly to the hearts and minds of the people who buy domain names – not to the industry itself.  I think this has definitely helped us to garner support.
We're pretty inspired by what we are doing – and, hopefully, some of that comes through – and that gets translated in a way that makes marketers, bloggers, entrepreneurs, small business owners and others who buy domain names excited about doing the things that inspire them – on a .CO domain name!
Mike: What was Colombia's motivation behind opening the TLD up globally, while other countries like to restrict registration to their own countries?
Lori:  While some countries do seek to restrict the registration of country code top-level domains, more and more countries are beginning to liberalize their domains.  Not only are more countries allowing foreign registration of domain names – but more are also actively promoting their domains internationally.
The decision of the Colombian government to liberalize its country code came as a result of nearly 10 years of debate and consideration.  Colombia had been approached countless times through the years by folks who recognized that .CO was a unique digital asset with broad global appeal – and requested that the domain be "opened up" globally.
The letters "CO" are meaningful, memorable and recognizable across countries, continents and languages.  Not only does "CO" literally mean "company" in many places, it is also the pre-fix that means "that which you do with another" (e.g., "COmmunicate," "COllaborate," "COnnect," for example) – which helps to easily expand the viability of the .CO platform to a wide variety of purposes that go far beyond just business or commercial use.
After an intense public consultative process with the local Internet community, Colombia put in place the necessary legal and policy framework to ensure that .CO could be rolled out globally in a safe, secure and stable manner. Ultimately, this led to an intense government procurement process, where .CO Internet SAS was awarded the contract to manage, operate and promote the .CO domain.
Mike: It's been said that .CO is treated similar to .COM, .NET and .ORG as far as search engines are concerned.  Is that true?  Could a good .CO out rank a .COM?
Google has said, specifically, that "we will rank .CO domains appropriately if the content  is globally targeted."  Webmasters now have the functionality to be able to specify global use by using the geo-targeting options in the Webmaster Tools that Google provides.  The answer is that Google does treat .CO domains in the same way as it treats as other generic top level domain names – like .com, .net and .org.  There are many cases of .CO domains ranking well in the search engines – and they simply require that people build quality sites, focus on adding unique, relevant content, and gaining back links, etc.  All the same things that help any website rank will ensure that websites build on .CO domain names will rank as well.
Mike: What are some premium .CO names that have been developed?
There are tons of them and more coming every day.  You can see a variety on www.Opportunity.CO .  Some of my personal favorites are www.Angel.co , www.BZA.co, www.TMG.CO and www.Challenge.CO .  Also, in one of the most exciting developments for us, Overstock.com has rebranded all of its international sites to www.O.CO   — and have been using the domain in all of their national television advertisements.  I think that was our first "TV" debut!
Mike: How is .CO doing in the aftermarket?  Are the names reselling well?

Lori: The reports we are getting from the pros like Kathy Nielsen, VP of Sales at SEDO, is that .CO is doing very well on the secondary market, especially considering how soon after launch it is.  You can get a sense of just how well by visiting a site like www.NameBio.com and doing a targeted search for .CO domain sales.  There are a good deal of them – and the numbers are very strong.  This said, our focus right now is on the primary market and helping to inspire people to build their names.  As the market for developed sites becomes more active, the secondary market will only get stronger.
Mike: What statistics do you have on .CO in general?
Lori: To date, individuals, organizations and businesses in approximately 200 countries worldwide have registered over 600,000 .CO domains.  While these numbers shift from month to month to some degree, the following numbers are true as of today:
90% of all .CO registrants have purchased only 1 or 2 .CO domain names each.
99% of all .CO registrants have purchased 10 or less .CO domains each.
And only 1% of all registrants have purchased 11 or more .CO domain names.
These numbers are interesting and encouraging as they suggest that we were successful in our initial goal of attracting real end-users – and limiting those interested only in massive speculation.
Mike: What is the future of .CO for businesses?
Lori: We live by the statement that "Anything is possible in the .CO era."
We see the .CO domain as a platform for opportunity online – and the possibilities for what you can create with a .CO domain name are endless.
In the next few years we hope and expect to see .CO grow to comprise a significant portion of the fabric of the Internet – loaded with small and growing businesses, thriving communities, aspiring entrepreneurs and people from around the world fulfilling their dreams and making their homes online on .CO domains.
Mike: Anything else you would like to add?
Lori:  Mike, thanks so much for the opportunity to speak to you and your readers.  Two last things: first) stay tuned for this year's Super Bowl, when the hot new Go Daddy .CO Girl will be unveiled!  And second) i.CO will be up for auction in the coming  weeks. Talk about Hot!  Visit www.i.CO for all the details — and please, spread the word!