I have occasional days where my Twitter feed is overwhelmingly stocked with tweets of specific domain names for sale. I have always found this frustrating as I feel Twitter is great for sharing information, questions, opinions, links, and the 'occasional' sales post. Domain sales posts should be far and few between the other information you are contributing or asking for, otherwise it reduces the value and interest of your own feed.
Slightly frustrated by this, I mentioned it in a tweet of my own.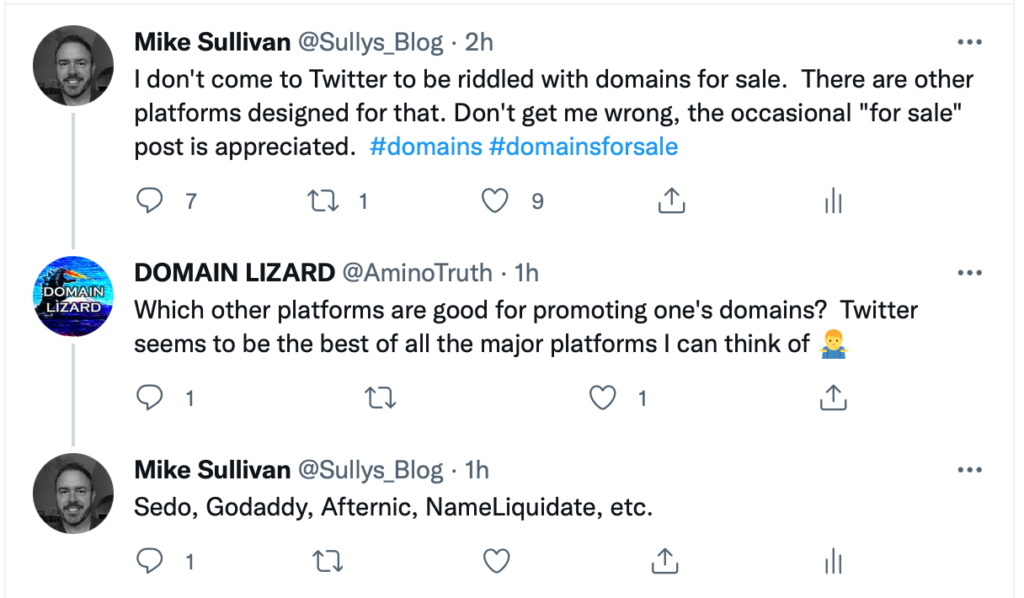 Based on the replies, I was actually surprised to find that a few folks were not familiar with other platforms more suited for offering their names for sale. I thought I would take the opportunity to list a few right here. These are the common spots, but there are plenty of others.
Domain Message Forums
Domain name message forums are a great resource for interacting, networking, learning, and listing domains for sale. Most have specific rules about how you go about listing your names and limit the frequency and volume.
Sedo
Sedo is a large marketplace for domain sales and actions
GoDaddy
GoDaddy offers you the option to list your names for a fixed price or to participate in the auction platform. This is one of my favorites as your domain name will appear in relevant search results.
Afternic
Afternic is dubbed as "the world's premiere domain marketplace, listing more than five million premium domain names available for sale…"
Flippa
Flippa is an action site for domain names and complete website businesses.
Dan
Dan is self branded as "The no-nonsense domain trading platform."
These are just a few spots to get you started and keep your Twitter posts focused on being social. Feel free to add any other suggestions in the comments, as this is just a brief list.