Michael McManigal is an entrepreneur, with several companies, and the President of TelephoneNumber.com.  Michael answered a few questions for me on his domain and his business.
Mike:  TelephoneNumber.com is a fantastic domain name.  Tell me how you came to own this domain.
Michael:  Years ago, I owned about 50 toll-free vanity numbers.  A company was interested in one of my toll-free numbers, and while talking on the phone with them, they suggested I should get a domain.  In fact, they even registered it for me, as the domain service was so new I didn't even know how to secure my own domain.  The gentleman asked what domain I wanted and TelephoneNumber.com was the first one that came to mind.  He couldn't believe it was still available!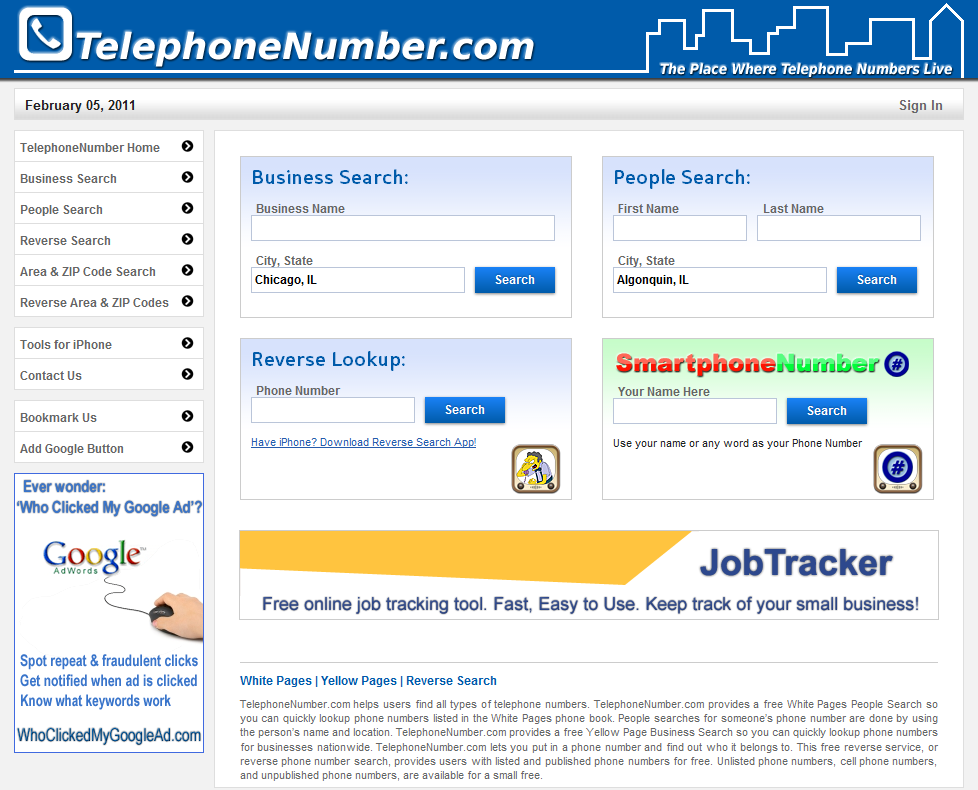 Mike:  I imagine the visitation statistics are off the hook (sorry, couldn't resist).  What does your monthly traffic look like?  Any idea how much comes from type-in/direct navigation?

Michael:  Due to various reasons, we do not release number of visits.  The site does rather well, as we offer free information.
Mike:  How do you market the site you have at TelephoneNumber.com?
Michael:  TelephoneNumber.com has never been truly marketed other than search engine optimization.  We do list our domain on some of our iphone apps, like The Pizza Finder.
Mike:  Did you have other domains as well?
Michael:  Many.  We have:
reverse411s.com
check-inLIVE.com
SmartPhoneNumber.com
ezLike.com
WhoClickedMyGOOGLEad.com
4Chores.com
ClaimTracking.com
TheDrinkBandit.com, and more
Mike:  Any advice for start ups or business on choosing the right domain name?
Michael:  If possible, obtain a short domain name.  Always secure a .com as opposed to another domain extension.  Even if it's great, people will always mis-type as they are use to the .com
Mike:  I notice the site has a premium, pay service for further searching.  Is this the primary means of monetization?
Michael:  Correct, we charge for reverse lookups for un-listed, non-published, and cell phone numbers.  We did charge for banner advertising, but severely limit ads so the website appears less cluttered.
Mike:  Do you think you would be willing to sell your domain at any point?  Have you ever received any unsolicited offers?
Michael:  We get unsolicited offers all the time.  I am not looking to sell the domain, but if the right price came along, I'd be a fool not to consider it.
Mike:  What can users expect when visiting your site?
Michael:  TelephoneNumber.com is an online yellow and white page directory.  We've also created an app where users can store their phone numbers in case their cell phone is lost, stolen, or damaged.  We also have another app in development, but are unable to disclose until it becomes public.
TelephoneNumber.com has also created SmartphoneNumber.com which uses keyword dialing instead of numerical dialing.  We feel this project will be a huge success for under TelephoneNumber.com.