I received an email the other day offering a domain that contains some of the same keywords in a domain name I own. I understand the strategy here, the seller is trying to find people with similar domain names that might have interest in acquiring their name. I decided to use this email as an example to point out what I like and don't like about this specific email. I'm hoping the mockup below will help illustrate some of my likes.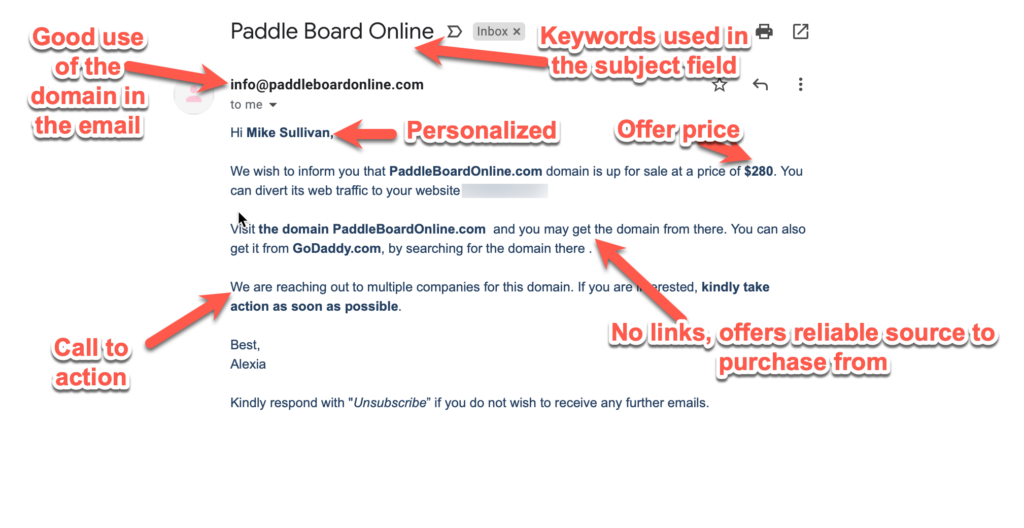 I wrote the book on domain sales letters.
There are several things I believe the sender of this message did well
Use of keywords in the subject field
Leveraging the domain name as the email address
Personalized the send by adding my name
Clearly stating the domain name in the first sentence
Including the asking price of the domain name
Providing options for purchase
No links which could be perceived as phishing
Ending with a call to action
There are also a few changes or suggestions I would make
Less use of bold – I like that the domain name itself was bolded in the first sentence as well as the price. Other than that, it looks any mail merge fields have been bolded, taking away personalization.
Improve the signature. Who is Alexia? Where are you from? Is this a business or a scam? How about a phone number. I'm probably not going to call you but knowing I could makes me feel better.
Unsubscribe. This seems to depersonalize as well. I thought I was hand chosen because of similarities in our domains. But I must be part of a mass mailing list. If you are looking to comply with the CAN-SPAM Act, I would rather see something along the lines of "This is a onetime email and we will not contact you again regarding this name unless we hear from you."
Overall, not a bad example. It is short and specific, about the length of my attention span. I would work on the target audience a bit more and weed out and domainers. Focus more on end users for a name like this.
If you happen to be the sender, please contact me with an update of how successful your efforts were on this.
What are your thoughts?