Natasa Djukanovic works at .ME Registry as Sales and Marketing Director. For the past two years, she played a crucial role in communication and cooperation with registrars and partners, as well as in marketing and promotion of the new .ME brand. Before she decided to switch to domain industry and join .ME Registry, she worked for the national airline for 8 years as a business development director. Her job included implementation of new technologies and procedures. From 2007 to 2008 she worked as CEO of a local bank in Montenegro.
Mike: When did .ME originally launch and when was it made available to those outside Montenegro?
Natasa:  .ME, the country code TLD was assigned to Montenegro in 2007, shortly after restoration of the country's independence. The Government immediately recognized its potential and decided to make it available worldwide, so they issued an RFP, and our JV between GoDaddy, Afilias and ME-net won the bid. .ME was launched in May 2008, and opened the worldwide registration in July 2008.
Mike: I know there are some great sites out there based on .ME, such as About.me. What other site's are you aware of that are using the TLD in the United States or internationally?
Natasa: Apart from Fb.Me (facebook), Wp.Me (WordPress), Vk.Me (used by Russian largest social network) and Ti.Me (Time magazine) which are all used as URL shorteners, there are some really good examples like Flavors.Me (customer-friendly personal website builder), News.Me (New York Times personalized news application), Call.Me (name says it all), Blog.Me (used as a blogging platform by Naver.com, the largest search engine in Korea), Fits.Me (virtual fitting room for online clothing retailers), Join.Me (screen sharing application), Formspring.Me (social network) and many more. The biggest value of .Me is actually usage by individuals for their personal websites.
Mike: There are some premium .ME domains that have been reserved and I found a list of them here (http://www.domain.me/premiumdomains/index.html). How does one go about acquiring one of those names?
Natasa: The allocation requirements are briefly explained in the Non-Auction Allocation Criteria. We expect interested parties to send an application where they will list their references, outline of the business and marketing plan, describe the intended use in details, provide traffic analytics from their existing online projects/websites/businesses and the required upfront fee. We are opened for cooperation and ready to propose amendments to the application before the final review which our team conducts jointly with the Government representatives.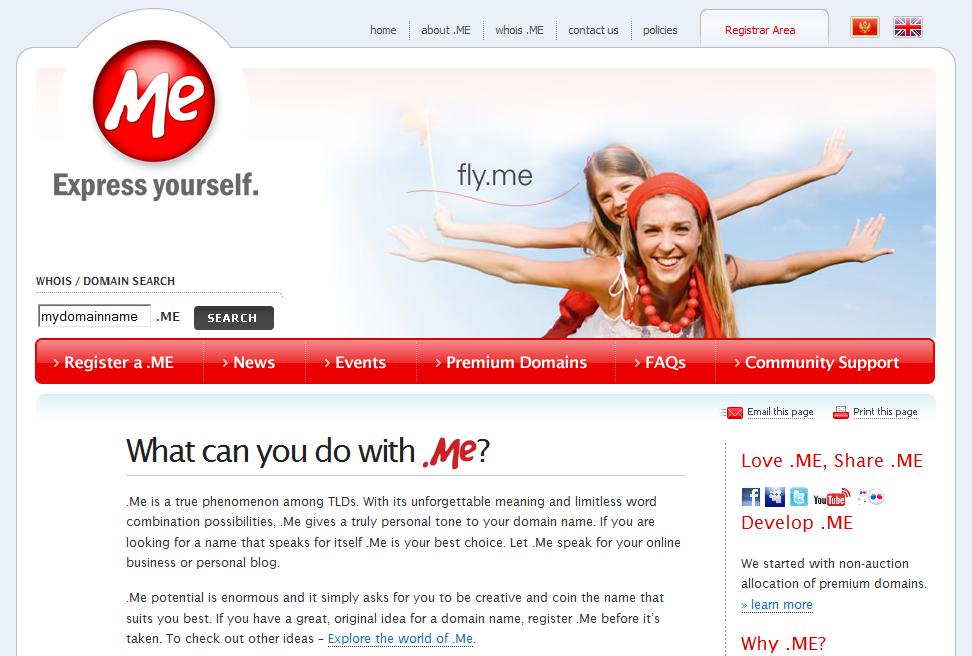 Mike: How is .ME treated by Google? Can it be setup to be indexed like .com, .net and others?
Natasa: .ME is treated by Google as any other gTLD, same as .com, .net etc. Google permitted geo-targeting of .ME domains in 2009.
Mike: In your opinion, what is the future of TLDs with .CO and the other new proposed TLDs? How does this impact .ME?
Natasa: We are aware that bringing new TLDs to the market will make an impact on every Registry, because we work through the same distribution channels (the registrars). However, after everything settles down, only the TLDs that establish recognizable online presence and have inherent marketing value will continue to grow. Since .ME has both these characteristics, we are sure it will not only keep the steady growth but achieve its full potential in the forthcoming years.
Mike: What would you say is the biggest advantage to owning a .ME?
Natasa: In the world of  domains it is really important to stand out of the crowd. .ME is short, memorable and recognizable, perfect for a personal website, blog, email or a catchy marketing message. Try to forget a service named Join.Me, or a blog with the name Beautiful.Me or just something as simple as YourName.Me. As said before, inherent marketing value, reflected in the possibility to easily create call-to-action or personalize users' online presence is .ME's biggest advantage.
Mike: Anything else you'd like to share?
Natasa: We are very proud to be a part of .Me team. Shortly after the launch, .ME gained a big number of supporters and it is their enthusiasm and positive energy what gives us additional motivation to continue promoting and building .ME brand. To get to our customers as close as possible, we set up the fan pages on major social networks like Facebook (fb.me/dotme) and Twitter (dotmetweet) as well as our personal blog www.exploretheworldof.me. Therefore, we would like to encourage them to send us  feedback and suggestions on our work so far. After all, .ME is about YOU expressing Yourself.