As an author, blogger, award-winning digital marketer, media commentator, mentor and active member of the startup community, Fred Schebesta is a highly respected entrepreneur.
Fred is the Co-founder and Director of finder.com.au — one of Australia's largest comparison websites. At just 26 years of age, Fred entered the comparison market – which is one of the most highly competitive online categories in Australia.
Fred's entrepreneurial journey started well before finder.com.au. At just 22 years of age, while studying a Bachelor of Finance degree at Macquarie University in Sydney, he and Frank created Freestyle Media and grew the business into a successful digital agency that sold to a publicly-listed company in 2007.
Mike: Tell me about Finder.com and exactly what the site offers it's visitors.
Fred:  finder.com is a personal comparison website that helps Americans make better decisions about their money. We believe that teaching people about finance will help them make better decisions and ultimately live a better life. Consumers can visit finder.com to compare and learn about credit cards, mortgages, personal loans, life and travel insurance, shopping deals, international money transfers and much more before choosing the option that best suits their needs. Our vision is to "compare everything", we know that is going to take a long time, but that is ok, we are strapped into this rocketship!
My business partner and I started finder in our native Australia over a decade ago, and are now operating in 10 different countries around the world.
We're not owned by an insurance or travel company (like some other comparison sites) and we aren't affiliated with any one institution or outlet, so we are an independant team of genuine experts. Beyond comparing products, this team of experts produce thousands of guides, videos and research to help people better understand money and make informed decisions.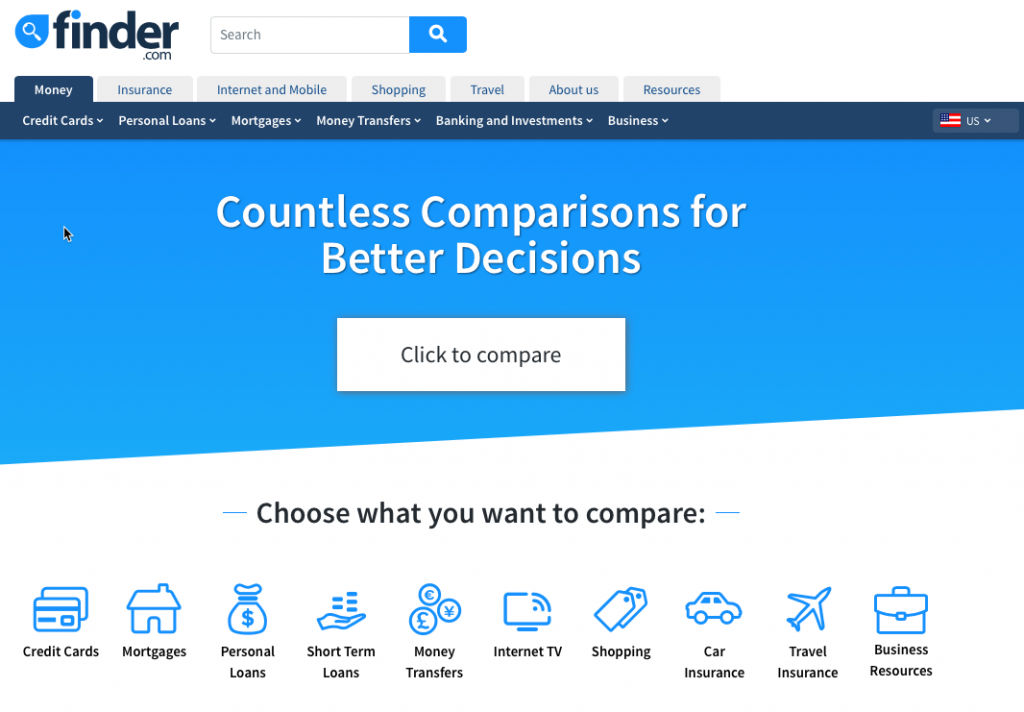 Mike: I have read in your bio that you founded Finder.com.au. Was this prior to Finder.com as mentioned above? Are there any differences in the sites other than geography?
Fred:  Finder.com.au was where the magic started. This is our domain name for the Australian site, which is the most visited personal finance website in the country. We then set our sights on global expansion, launching in the US with finder.com in 2015. Both domains have the same aim – of helping people understand their money decisions and providing local choices and empowering them to make "Great decisions"!
Mike: In your experience as a successful online entrepreneur, has it proven to be beneficial to use country specific TLDs such as .com.au to target your audience?
Fred:  In short, yes. Although there have been a lot of instances where we have found that being a .com has helped us target more global verticals. So it really does depend. I think there is still lots of value in country specific TLDs but I think the jury is out as to what is the best strategy globally.
Mike: I've read through some great articles on the site, including "The Financial Case for Sobriety, Calculate Your Savings" which was an eye opener. Do you have a staff of writers or do the articles come from outside contributors? How is this funded?
Fred: We have a team of writers based all over the US who are experts in various elements of personal finance including credit cards, personal loans and international money transfers. We also regularly engage with industry experts for insights and predictions such as this piece on how AI, blockchain and social media will impact cross-border payments.
Mike: Both Finder.com and Finder.com.au are killer names. Are you willing to share traffic numbers with us?
Fred:  Globally, finder receives over 3 million monthly page views and 2.1 million monthly UA's.
Mike: How about acquiring the names. Can you tell me how you went about getting the names? 
Fred:  First, we reached out to the original domain owners. It took quite a few attempts to get through to them; I think around a year. It then took quite a lot of negotiating to get to a realistic monetary figure. From there we used an escrow service and then after that we made the trade. The actual purchase was relatively straight forward although the process to to get there took a very long time.
Mike: What is the business model here. How does Finder make a profit. Is it affiliate based depending on which deals people sign up for?
Fred: Finder is independently-owned and totally free to use. We make our money through the providers, rather than our users. When you click through to, or apply with, a financial institution or retailer on our site, they pay us a small referral fee for sending you their way. This means we don't mark up any of the products on our site, yet can still provide a quality service. We're not affiliated with any one institution or provider, so only serve the best options for our consumers' needs.
Mike: This is not your first rodeo. You founded, grew, and sold Freestyle Media a decade ago. What advice do you have for average people looking to quit the daily grind and make a living online? What are some important considerations.
Fred:  Success will take a lot longer than you realize: many would-be entrepreneurs lack the patience to see a business grow. Even the best idea takes time to build. My business partner and I wanted to remain independently funded, and so that meant turning down other opportunities to focus on slow and steady growth.
Focus on achieving one thing well, before you move on to the next: natural-born entrepreneurs typically have many great ideas yet it's impossible to do everything well at the one time. Taking a more focused approach is a much faster track to success.
Build resilience: even the most successful of entrepreneurs has had their fair of knock backs and downright failures. You can't let these get you down. Take each mistake or slip up as a learning opportunity. It's not meant to be easy.
Set and regularly redefine goals: there are many steps in between working for a salary to running your own business. Use goal setting to stay on track, focused and motivated. Sometimes the road will seem impossibly long, but chunking it down into smaller, short term goals en route to the big dream will make it feel more achievable. Remember to constantly go back and check on those goals, ensure they are still in line with your vision and celebrate the wins you've had along the way.
Mike: How beneficial do you think it is to have your business on a keyword domain name like Finder.com?
Fred:  I think it's absolutely awesome and has been a crucial part of our success. We wanted to have a short name that was recognizable and easy to communicate and remember. I think domain names are amazingly important. A great domain becomes your brand.
If you like this post and want to sponsor it on Domaining.com, click HERE.