I'm not ashamed to admit it. I just purchased a domain name pitched to me in a poorly written email. I get bombarded with domain sales emails daily. You would think that I'd have them filtered to spam, but there is just something irresistible about them and I have to look at each and every one. I enjoy directing them and learning what I can.
I have sold a many domain names using cold emails in my time as a domainer. I have fine tuned my strategy to the point where you could say I wrote the book on selling domain names leveraging email. I know what works for me and what doesn't. I know how to write a subject line that catches a readers eye and what throws up a big red flag for an immediate delete.
It's not that I have a gift for sales emails. I mean, maybe I have an obsession for them, but not a gift. I just have a lot of experience sending out emails that netted zero sales. That forced me to find small ways to improve my emails and do some A/B testing to see which ones worked better than others. Which ones received replies and which ones went into the abyss never to be seen again.
There really are small nuances that can make a difference. How big of a difference? The difference between a sale and no sale. That's a huge difference. But I'm writing today to tell you about this email I received and why it worked, despite its problems.
Why it worked – I opened it!
There are a few reasons that came together to make this email a success on the part of the seller.
First, the email was from a persons name, not just an email address. You can't tell from the view below, but in my inbox it displayed the senders name, not their email address. This lends some credibility. Next, the keywords were in the title. Not only that, they were relevant to a project I am working on. These two points working together gave the email enough validity that I chose to open it.
Once opened, I easily spotted the domain name in the first sentence. It helped that the name was bolded. It was a name I had actually looked at least once before on it's landing page. It was a name that would work well with my project as a supplemental name I could develop into a "top 5" list to drive traffic to my other site. I also liked that the asking price was listed. I didn't have to go hunting around on any of the platforms to get an idea.
The name was dirt cheap, but I lowballed anyway. Don't be a hater. I picked it up for $50 and once developed, if it sends one lead to my other site it will pay for itself.
| What Worked | What Didn't Work |
| --- | --- |
| Email had a real name tied to it | Excess words that add no value |
| Title contained keywords | Over bolding |
| Domain was in the first sentence | Sub-par English |
| Domain was in bold type | |
| Included a price (and it was priced to sell) | |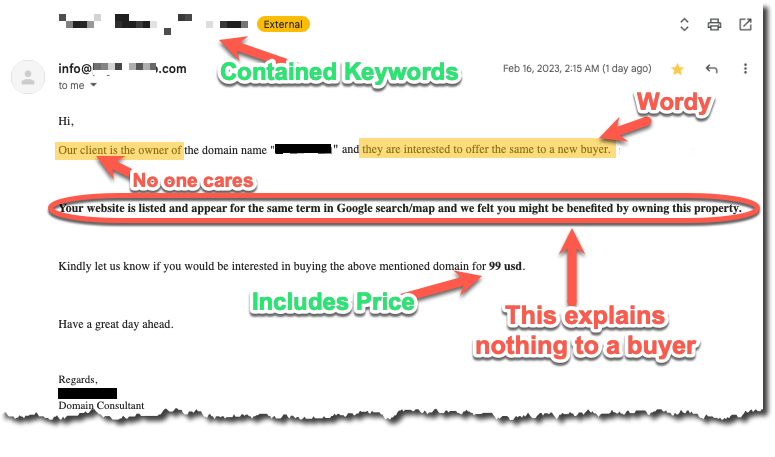 I'd love to hear about your inbound and outbound email experiences. Let me know what you have seen that works well or if you have any entertaining stories to tell about emails you've received.