Although some may disagree, one of the best reasons for living in the Midwest is experiencing the seasons.  I passed one of those bank signs this morning that shows the time and temperature on my way to the car wash.  24 degrees.  Not too cold, but I opted for the drive through car wash as opposed to standing out in the wind with ice cold water spraying in my face.  Sure, my locks will probably be frozen the next time I try to get in my car, but it will be worth crawling in through the back hatch just to have temporarily washed that salt off the car.
We've had a pretty mild winter in Chicago, but I still can't help but think of the warmer, summer days…  backyards, grilling out, swimming pools… and mosquitoes. Ah, the mosquitoes.  The mosquitoes in Chicago are plentiful but not necessarily big.  As you move down state, they get even bigger.  Some of my domainer friends further South refer to them as "skeeters."  In fact, one of them had a pet skeeter as a kid until it chewed through the chain and got away.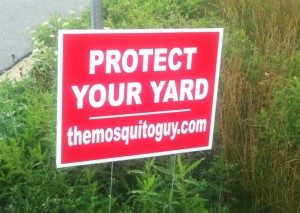 All this summer reminiscing reminded me of the photo I snapped with my phone one day last summer.  I saw this sign for TheMosquitoGuy.com.  I found it to be a great domain for what I am assuming is a small, local business.  Granted, I'm sure he would have loved to own the name Mosquitoes.com, which is held by SC Johnson & Son, Inc. and redirects to Off.com.  Regardless, I think TheMosquitoGuy.com is a pretty wise choice.  It's easy to remember and hundreds of thousands less than the best generic match.  Bottom line is that generic domains are excellent, but obviously they are limited in availability.  A business can still land a memorable name on a budget.
I look forward to the time when I'll put away my ice scrapper and snow shovel, and replace them with the backyard grill and fire pit.  I doubt I'd actually call upon his services, but if I ever needed to, I know where to find "the mosquito guy."
If you like this post and want to sponsor it on Domaining.com, click HERE.